Wearable Tech workshop for secondary school students
Due to the Coronavirus outbreak, the workshops have been postponed. New dates will be announced in due course.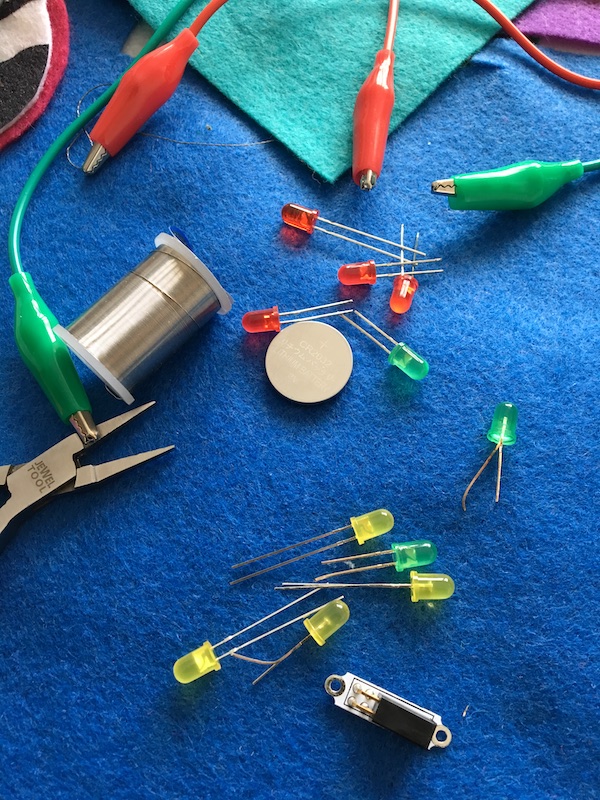 This workshop is designed to inspire students into the world of wearable technology. The students will design and make a wearable product using E-Textiles – a combination of electronics and textiles. The students will make a wearable item (badge, bracelet, etc) that they will design and make using electronic components, conductive thread and textiles.
Learning Objectives
To learn about the design and development of a wearable product
To understand basic electronic principles
To understand about materials used in wearable technology products
To create an electronic circuit using conductive thread
To make a wearable product
To understand the need for testing and debugging
Materials
All materials will be provided free of charge. The final wearable product can be taken home.
This workshop is suitable for secondary school students.
When: Date TBC
Where: Yatton Library, 48 High St, Yatton, Bristol BS49 4HJ
Time: 10am – 1pm (bring a water bottle as refreshments are not provided)
Registration: Register your place. The workshop is FREE of charge. Spaces are limited.

This workshop is offered free of charge with the support of The Institute of Engineering and Technology.
We are grateful to Yatton Library for providing the space.