Coding Club at Mary Elton Primary School
At Coding Club the children learn computational thinking, the basics of computer programming and digital skills. They also learn to collaborate with each other in a fun and friendly environment.
KS2 Children Year 3 – Year 6 (Term 1: Sept – Oct 2019)
Thursdays 3:15pm – 4:15pm
Make games in Scratch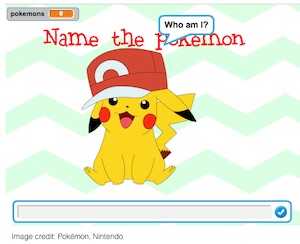 Learn to code by making your own games using the Scratch programming language
Drag and drop blocks of code and learn programming concepts
Learn to think like a computer programmer. You will learn how to collaborate with your friends and program together. Share and play your games with your friends.
This term the children will be learning about game design and program their favourite Pokémon characters to create interactive games.
The club is suitable for beginners and more advanced coders.
Term Dates:

12 Sept 2019
19 Sept
26 Sept
3 Oct
10 Oct
17 Oct
Download the form for this course and hand it to the school office, along with payment. Spaces are limited.